"The person in this T-Shirt is 13.8 billion years old"

Like the universe, everything around us and the screen you're looking at now, as well as you yourself, are made up of elementary particles that appeared at the time of the Big Bang 13.8 billion years ago. No wonder you feel tired sometimes!
Find out more about the Big Bang.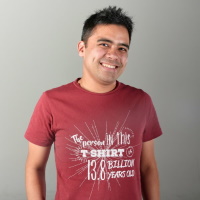 Technical Specifications
100 % organic cotton.
Colour : Burgundy 
Women's size guide in cm  :
Size
A
B
    
    
    
XS
60
40
S
61
41
M
63
41
L
64
43
XL
68
49
2XL
70
51

Men's size guide in cm  :
Size
A
B
    
    
    
S
67
49
M
70
51
L
72
52
XL
75
53
2XL
77
56
3XL
80
58