"I want to be a particle physicist"
Every year, CERN trains several hundreds of students from all over the world, not only in physics, but also in the fields of engineering, computer science, administration and more.
Find out more about internship and employment opportunities at CERN.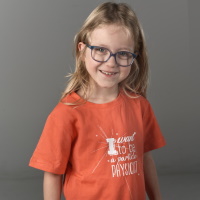 Technical Specifications
100% organic cotton 
Colour : pink coral (pantone 1788C)
Size guide in cm :
Size
A
B
    
    
    
2-3 y/o
40
30
4-5 y/o
45
32
6-7 y/o
48
35
8-9 y/o
55
37
10-11 y/o
57
39
12-13 y/o
64
42
Age is only an approximation of size. The height of your child gives a much better indication of which size to buy.