"This T-Shirt is made of 9 million billion billion quarks"
Like all the matter we know, this T-shirt is made up of atoms, which in turn are made up of a nucleus surrounded by electrons. The nuclei are made up of protons and neutrons, which contain quarks. With no measurable size, electrons and quarks are elementary particles, meaning they do not contain any other particles. Their mass is so minuscule that a huge quantity of them is needed to make just a few grams of matter.
Find out more about the Standard Model.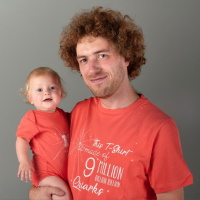 Technical Specifications
100% organic cotton.
Colour : pink coral 
Women's size guide in cm :
Size
A
B
    
    
    
XS
60
40
S
61
41
M
63
41
L
64
43
XL
68
49
2XL
70
51

Men's size guide in cm :
Size
A
B
    
    
    
S
67
49
M
70
51
L
72
52
XL
75
53
2XL
77
56
3XL
80
58